Pendant & Necklace Guide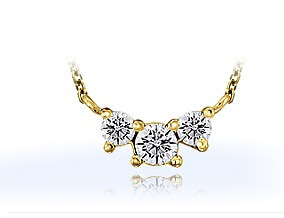 Pendants and Necklaces are a sole statement-making neckpiece that can enhance your entire look. They rest closely on the neckline or cling down freely sometimes, giving your face and attire complete gracefulness.
Necklaces
A necklace is a means of body adornment worn around the neck and has been one of the oldest forms of ornamentation. Over years, the necklace has undergone series of changes, in terms of styling, metals used, stones embedded, etc. Today, we have wide range of designs from simplified to the most intricately crafted art works.

Necklaces with a trilogy of colors and those that combine two colors are becoming more and more popular. The combination of white gold and yellow gold, so far, is the most appreciated combination. With the ever-increasing fame of diamonds, the necklace industry experienced a hiked demand of diamond necklaces. The trends of using other precious gems are soon becoming a vogue.
Pendants
A pendant is another form of body ornamentation worn around the neck, but is relatively new. A pendant is essentially a small piece of jewelry dangling from a metal chain. The most sought after pendants are the classic solitaires. A solitaire pendant has a single gemstone, particularly a diamond or a pearl, dropping from a chain.

Diamond Hearts and Crosses fall next in sequence of demand after solitaires. These often form the most suitable gift to be presented to your loved ones. It is not just the metals, gemstones and lockets that offer variation, but there are even a wide range of chains to select from. There is one to suit every personality and taste- from sleek and shiny to the strongest impression of strength. The chains you can select from are- Bead, Byzantine, Cable, Mesh, Rolo, Rope, Snake, Box/Venetian and Wheat.
Pearl Strands
Pearl strands, unlike other necklaces or pendants, observe a separate classification being unique in nature. Depending upon the length of the pearl strand, the following terminology is used:
Collar (12 to 13 inches): It rests touching the throat without dropping down to the neck and usually comprises three or four strands of pearls.
Pearl Chokers (14 to 16 inches):These lie just at the base of the neck.
Princess (17 to 19 inches):It reaches the collarbone or sometimes a little below that.
Matinee of Pearls (20 to 25 inches):A matinee of pearls falls just above the breasts.
Opera (26 to 36 inches): The opera necklace reaches down to the breastbone.
Pearl Rope (37 inches or longer):A pearl rope is any length that falls below opera.
Check out the myriad of dashing Pearl strands & Pendants and Necklaces on sale at B2CJewels.com