Pearl Evaluation Factors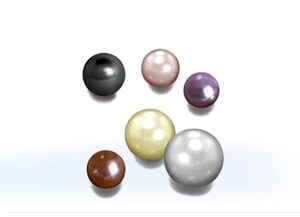 Amongst all the gemstones, pearls carry their own exclusivity, being the only gem produced by a living organism. This being a natural process, it is nearly impossible to find a flawless pearl making it difficult to standardize a grading scale for pearls. As a result there are a number of factors that are to be considered while determining the value of a pearl. These factors are:-
Size
The size of the pearl depends on the variety of the pearl you choose. This is because the size of the South Sea Pearl and the Tahitian Pearl can be bigger than Akoya.
Shape
Pearls can be largely categorized into three shapes- Symmetrical, Spherical and Baroque. An example of a symmetrical pearl is an oval, while baroque pearls are irregular in shape.
Luster
Pearls possess an intense shine called luster which is a combination of surface brilliance and a deep glow. A quality pearl should be bright and lustrous. Any pearl that appears white, dull or chalky is of an inferior quality.
Surface Grading
The clearer the surface of the pearl the better is its value. Check for disfiguring spots, bumps or cracks on the surface of a pearl. Quality pearls have a sharp mirror like reflection. Pearls with the smoothest surfaces are of the highest quality.
Nacre Quality
Nacre is the natural substance that the mollusk secretes to protect its sensitive flesh from irritants such as shell fragments or implanted beads. The thicker the nacre, the better is its quality
Color
Body color is the dominant color of the pearl, while overtone refers to one or more translucent colors that overlie the body color. For example, some pearls that appear white will have hints of pink overtones when examined closely. The third component of pearl color could be Orient, presence of which looks like a moving iridescence on or just below the pearl's surface.